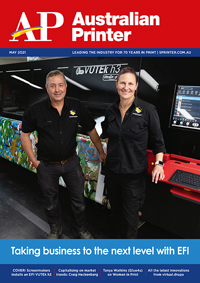 Distribution: 5,000+ copies
Frequency: 5 issues/year
Australian Printer (AP) – is a business and industrial magazine that is published bi-monthly. It focuses on printing technologies and which requires and requires an understanding of print to read.
First published in January 1950 and having celebrated its 70th anniversary in 2020, AP is one of the longest-established, successful and continually published printing magazines globally.
AP has built powerful international connections with major global print event organisers, print industry manufacturers and suppliers, leading print media, and print research organisations, resulting in the creation of high-value, leading edge content.
AP's expert writers and contributors report without fear or favour; its news and features chronicle the major developments in print technology and how print businesses have changed over seven decades.
AP has been an industry leader in bringing new content areas to the attention of decision-makers in print businesses.
These innovations, published in every issue include:
Content focusing on the value of print; and
The industry's first dedicated column about how to sell print in the 21st century.
AP also conceives and organises events tied to industry functions, such as print sales training and drupa roadshow previews, for the A/NZ market.
Publisher: James Wells
Ph: +61 2 8586 6101
Editor: Hafizah Osman
Ph: 0431 466 140
National Advertising Manager: Carmen Ciappara
Ph: 0410 582 450