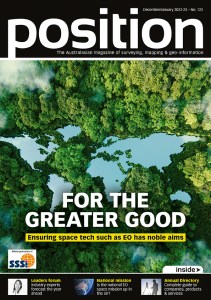 Frequency: 6 issues/year
Position Magazine is the only Australasia-wide independent publication for surveying and spatial sciences and is the official magazine of the Surveying and Spatial Sciences Institute (SSSI).
Position covers the acquisition, manipulation, application and presentation of geo-data in a wide range of industries including agriculture, disaster management, environmental management, local government, utilities, and land-use planning. Position contains news, views and applications stories, as well as coverage of the latest technologies that interest professionals working with spatial information
The magazine is published bi-monthly in both hard copy and digital, with six comprehensive issues annually.