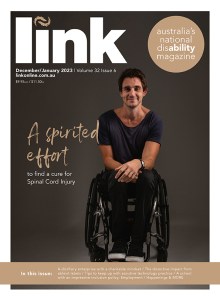 Link Magazine is Australia's premier national cross-disability publication. The magazine is published in print & online six times a year to share the latest news, research and opinion on issues facing the disability sector.Link was first published as a state-based newspaper in 1980 and run for two decades by disability advocate Jeff Heath and his wife, Yvonne Baillie. Link's mission is to examine issues from a cross-disability perspective. The publication has grown into a national, bi-monthly magazine supported by a weekly e-newsletter.
In August 2020 Link was acquired by Interpoint Events part of The Intermedia Group one of Australia's largest publishers. The Intermedia Group and its sister businesses have a portfolio that comprises more than 78 media properties across Australia & New Zealand. These Include:
27 market – leading print titles
31 digital titles
20+ event & conferences held across the Asia Pacific region
Interpoint has been involved in the disability sector for more than 15 years and currently organises Australia's largest disability expos and publishes the weekly disability newsletter Freedom2Live. 
Publisher: Simon Cooper
Editor: Kymberly Martin – Email
Advertising Manager: Michelle Stevens – Email