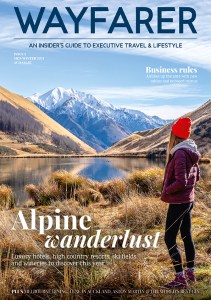 Wayfarer is the world's newest executive travel and lifestyle magazine, website, newsletter and TV show and it showcases the latest news for frequent flyers alongside reviews, tips, hot lists and essential guides to some of the world's leading destinations.
The title is produced as both a print magazine – available in selected luxury hotel rooms across Australia and New Zealand – and a digital edition that is distributed to over 80,000 executive and luxury travellers in Australia, the United States, Canada, Singapore, New Zealand and across the globe.
The 100-page Wayfarer magazine was produced on the back of demand for a high-end, stylish and informative publication for the business travel market and is the only printed publication for executive travellers in Australia, New Zealand and also across Asia-Pacific at present.
MEET JAMES WILKINSON: THE HOST OF WAYFARER'S TV SHOW & THE EDITOR-IN-CHIEF
Leading the Wayfarer team is award-winning journalist James Gregory Wilkinson, who has been writing about and commenting on travel for the past 25 years. He is the Editor-In-Chief of the Wayfarer magazine, website and newsletter, and the Host of the Wayfarer TV series.
For the last 20 years, James, a former winner of the Australian Travel Writer of the Year award, has been the Editor-In-Chief of the Asia-Pacific region's highly respected hotel industry magazine, Hotel & Accommodation Management (HM), and its online products.
He is also a Contributing Editor for SPICE magazine and SpiceNews and was formerly the Travel Editor for Time Out Australia. James also serves as the content chair for the Australasian Hotel Industry Conference and Exhibition (AHICE) and chief judge of the HM Awards.
Since 2010, James has also been a regular guest on TV and radio stations in Australia, having appeared on: the 7 Network shows 'The Latest', 'Sunrise', 'The Morning Show', '7 News Sydney' and '7 News Melbourne' (over 20 appearances); on the Sky News Business Channel television show 'Business Class' (on over 150 shows, including 80 as the anchor/host); and a number of radio stations including 4BC in Brisbane, 2UE in Sydney and 3AW in Melbourne where he commentates on trends in travel, primarily aviation, hotels and destinations.
James can be contacted on: jwilkinson@intermedia.com.au or james@wayfarer.travel