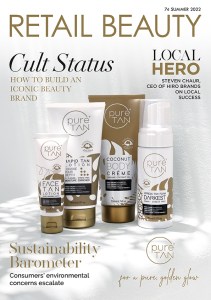 Retail Beauty is the only authoritative, independent retail beauty business magazine communicating to everyone working in the industry: Through management across all brands, Beauty Advisors (BAs) and non-brand pharmacy BAs, store and pharmacy buyers in Asia Pacific.
Retail Beauty has a total focus on subjects and information that appeal to its readership who work in the retail beauty industry. In every issue 100 pages are devoted to profiles of local and international industry heavyweights, what's trending now, marketing moves, issues affecting the industry, analysis & insights, staff training and strategies, brand profiles and the latest industry news, peer conversations and launches.
Retail Beauty is published quarterly and its value and reputation in helping the beauty industry keep up-to-date with relevant and trustworthy information, and increase the ability to make money, is unsurpassed.
With a print-run of around 6500 and an estimated readership of 24,800, Retail Beauty reaches some 4500 named Pharmacy Beauty Assistant readers many of whom have requested the magazine.
OUR STATEMENT
Retail Beauty is a pivotal partner to influence store buyers and educate Beauty Advisors to promote and sell more products – to make each customer's shopping experience more beauty-full!
"To celebrate our Weleda 100 year anniversary, we partnered with Retail Beauty in 2021. Seeing our vibrant brand come to life on the front cover and continuously in the publication and online throughout our anniversary year helped drive brand awareness and tell our story to potential and existing retailers and beauty advisors. To keep the momentum going we are continuing the partnership in 2022 and look forward to growing alongside this valuable industry publication. The team is a delight to work with."
Charmaine Pichler, Head of Marketing, Weleda
"We partnered with Retail Beauty right from the beginning of Boost Lab as a part of the initial trade marketing strategy to provide awareness and educate the professional Beauty community. This has been a success step in building the brand within the industry."
Craig Schweighoffer, Founder & Director, Boost Lab
ADVERTISE
Please contact our advertising team to request a media kit.