Frequency: Quarterly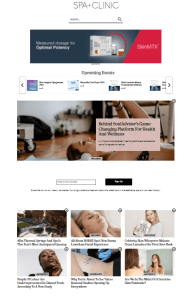 SPA+CLINIC is Australia's leading B2B title for the aesthetics and wellness market communicating directly to industry professionals including doctors, plastic surgeons, practice and spa managers, cosmetic nurses, beauty and dermal therapists, skin and laser specialists and day spa operators across Australia, New Zealand, and Asia-Pacific.
The typical SPA+CLINIC reader is a specialised, highly educated decision-maker and trailblazer, always looking out for the latest and greatest the industry has to offer. Our focused, niche readership means advertisers will reach the right audience for their products and services, talking directly to industry professionals with spending power. SPA+CLINIC's established database is indispensable for industry brands' marketing needs.
Across our quarterly print magazine, our website with fresh daily content, our weekly e-newsletter, and active social media presence via Facebook, Instagram, LinkedIn, and Twitter, we inform thousands of savvy business owners and their staff by delivering the how, why and what of the rapidly evolving spa, wellness and clinic business. Topics covered include but are not limited to advanced skincare, aesthetic devices, wellness treatments, destination spas, spa design, business advice, and valuable insights into industry trends and statistics.
Led by industry expert and Editor, Nadine Dilong, SPA+CLINIC promises to raise industry standards and profitability by informing readers and encouraging best practice across the industry. A must-read for owners, management and staff of all types of aesthetic businesses, SPA+CLINIC has inspired readers since 1999. As of 2019, SPA+CLINIC also co-hosts an annual B2B aesthetics industry summit, BEAUTY & SPA Insiders, which, in its first year, was a roaring success attracting 200 attendees.
SPA+CLINIC is the trusted voice at the forefront of all things spa, aesthetics, and wellness.
The Team: expertise you can trust
Nadine Dilong, MANAGING EDITOR
Nadine leads SPA+CLINIC as the Editor with extensive experience in the cosmetic beauty industry. Having worked as beauty editor for several publications as well as assistant manager for one of Sydney's leading plastic surgery clinics, Nadine knows both sides of the industry and thrives on bringing her vision and fresh ideas to SPA+CLINIC. E-mail ndilong@intermedia.com.au
Kym Cowper, NATIONAL ADVERTISING MANAGER
Kym Cowper joined SPA+CLINIC with over 13 years of experience in the beauty industry, having played a key role in the rise of Beauty Directory and beautyheaven. With extensive Account Management, Sales Strategy, Digital Sales and Field Business Development experience, Kym's sales philosophy centers around exceptional customer service and results-driven advertising campaigns. E-mail kcowper@intermedia.com.au
SPA+CLINIC is the trusted voice at the forefront of all things spa, aesthetics, and wellness.