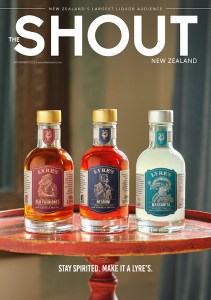 The Shout NZ delivers the largest digital audience dedicated to the New Zealand on-premise and off-premise liquor industry.
At theshout.co.nz we gather the best news, insights, analysis and industry expertise in one place to provide readers with up-to-date information on the New Zealand liquor sector.
Featuring tasting notes and commentary from Cameron Douglas – New Zealand's first and only Master Sommelier – plus monthly insights from members of The Brewers Association of New Zealand, NZ Winegrowers and other liquor experts, the website and readership has grown exponentially.
The Shout NZ is also represented in a weekly eNewsletter sent to and enjoyed by more than 9,000 readers across on-premise and off-premise businesses, plus wineries, breweries, distilleries and more.
And our social media following on Facebook and Instagram @theshoutnz is constantly building and engaging readers.
Advertising opportunities exist across these digital platforms – including sponsored content, wine tastings and reviews from Cameron Douglas MS, new product features, website ads and much more.
To contact us, or enquire about advertising opportunities, click here.
Editor – Charlotte Cowan